An exercise bike can be a quick and cost-effective way of building up your stamina in the comfort your own home.
But there are literally hundreds of these machines out there, with prices ranging from the tens to the thousands, making it really hard to choose the right exercise bike for your needs.
That's why manufacturers see professional endorsement as so important, and one reason why the Roger Black Gold folding exercise bike is such a popular choice.
But is this folding exercise bike the real deal for those who want to do some cardio and then store it away easily, or is it just another endorsed product that is high on promise but low on features, quality and lifespan?
Key Features & Specification
Just looking at the key features and specification of the Roger Black Gold folding exercise bike, it's easy to see that it promises the capabilities to deliver great workout:
Eight levels of magnetic resistance
Heavy 3 kg flywheel
Self-levelling pedals with straps
Large, supportive adjustable seat
Management console displaying scan, time, distance, speed, hand pulse, calories
hand-grip heart pulse sensor
An easy-to-move 16.5 kg weight
Make no mistake, as well as having a great set of features, this exercise bike really looks the part.
It has a smooth, stylish curved design, predominantly in black. Easy to fold, and with manageable dimensions of H118, W41, D85cm, it will even look good when it's leaning against the wall!
Assembly
There's nothing worse than having the excitement of purchasing a new piece of exercise equipment quickly dampened when you start pulling dozens of unconstructed parts from the box.
But the great news is that you don't get that sinking feeling with the Roger Black Gold exercise bike.
We managed to get it assembled in 30 minutes, and some people report taking only 15 minutes to get it ready for use.
Step one consists of connecting the front and rear stabilisers to the frame, and simply connecting the pedals to the pedal crank.
Step two is attaching the seat and adjusting.
Step three is as easy as attaching the handlebar monitor and connecting the wires.
Even taking your time it should be ready to go pretty quickly. This is definitely bike that is universally accessible, making great for the beginner of almost any age and ability to assemble and use.
Using The Roger Black Gold Exercise Bike
Now it's assembled it's time to give the Roger Black Gold exercise bike a proper test.
First we made adjustments to the seat height (the vertical adjustment), and then adjusted the distance to the handlebars (horizontal adjustment). This was easy to do, with the grips to adjust the screws strong and easy to handle, not leaving you with sore fingers.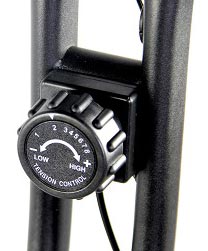 Sitting on the bike you can feel it's sturdy, and even though it's easy to collapse after use there is no fear of falling off with this model.
The controls are really easy to navigate using one button, and the display cycles through the figures to give you an ongoing read-out on your progress.
The magnetic resistance is frictionless and I was shocked at how quiet it is. You can easily hammer away on this and still watch the telly without having to turn it up loud.
There are eight levels of resistance, adjusted via one knob. Simply click clockwise to increase, and anticlockwise to decrease resistance. I do have to say that the resistance levels are more suited to a beginner or intermediate user though. So if you are experienced with cycling generally, then you may find this model a little light for your needs.
Actually using this exercise bike is a breeze. The pedals are really good quality with good quality stirrups, making it easy to keep up a good pace without your feet coming out. The "bullhorn" handlebars allow you to cycle in a traditional or long arm position, with the added benefit of a heart rate monitor being built directly in to the handlebar as well.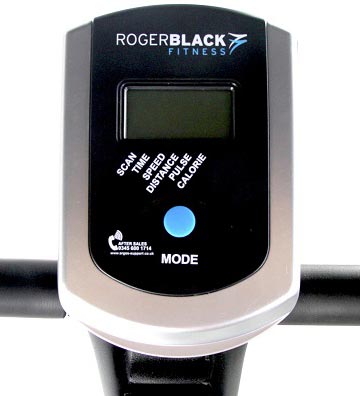 The Management Console:  What Does It Do?
At its simplest, you can just get cycling and the management display will show you your progress in terms of:
Time
Distance
Speed
Pulse
Calories
It's a nice clear blue display, and it nicely trades off between features and simplicity.
It comes with several built-in programs you can cycle through, delivering information on your progress in each.
There may actually be too much information for some people, when you can monitor heart rate, body fat, average speed, calories used and even rotations per minute. But even for the most avid performance information consumer, this has something for everyone.
Overall, the management console is simple and intuitive, and I didn't even have to look at the instruction booklet to use it.
The only negative I have is that the heart rate monitor didn't feel accurate. This is actually common to most similar features on exercise equipment, and should be taken as a guide only anyway. At the end of the day, you'll be able to see roughly when your heartbeat is increasing, maintaining a high BPM and then slowing as you warm down.
Storage & Maintenance
The Roger Black Gold foldable exercise bike is really easy to set up and take down. It closes smoothly and silently and stacks against a wall or in a cupboard really easily. It stays folded through inserting one locking pin.
It's dimensions are compact and it really is ideal even for somebody in a small flat to get started in increasing their fitness and general health.
It is robust and does not require any ongoing maintenance, there is nothing to grease, nothing to oil, nothing to put WD-40 on. It really is a simple beginner-to-intermediate home exercise bike.
Conclusion
As you probably guessed by now, I'm already a real fan of the Roger Black Gold exercise bike, and I have to give a positive conclusion to my review of it.
It's competitively priced, coming well inside the mid-price range at around £150. You may even get it cheaper if you shop around and keep an eye out for special offers.
In summary, the pros of the Roger Black Gold exercise bike are:
Simple and robust design
Easy to adjust
Easy to build
Good looking, slimline design
Light and easy to move via lifting or included rollers
Built in water bottle holder (surprisingly absent in many exercise bikes)
Smooth and silent eight level magnetic resistance
Simple but powerful management console
Now I have sung its praises, I do have to mention that the Roger Black Gold exercise bike does have a few cons you will need to consider when weighing up your buying decision:
The LCD screen delivers a lot of information you may not need
Heart rate monitor is not very accurate
Resistance levels will not carry you beyond being an intermediate level user
So if you are starting out with exercise bike use, or you are an intermediate user who just wants to maintain things, then the Roger Black Gold exercise bike is perfect for your needs. It's compact, well-built and stores away easily.
It's brilliantly quiet and simple to use, and comes with a range of information you will find useful, but hopefully not overwhelming.
And as we have said, on the downside, you may need to consider another bike if you intend to push on into being an advanced exercise bike user, due to the limited weight and scope of the included flywheel resistance.
But overall, this is a high-quality exercise bike and is highly recommended.
If you found this review useful you might also be interested in reading about the Lonsdale Exercise Bike.