Want to enjoy a great cardio workout right from your own living room? Investing in the best treadmill will help you stay fit and active – no gym membership required.
But finding the right model for your budget and needs can be tricky. We're here to help. We've rounded up seven of the top home treadmills that offer great value for the money and reliable performance.
7 Best Treadmill Reviews
1. JLL S300 Folding Treadmill
With multiple workout programs, several incline levels and digital control technology, the JLL S300 is an advanced folding treadmill that makes workouts more enjoyable.
The S300 is powered by a 2.5 CHP digitalised motor and offers speeds ranging from 0.3km/h all the way up to 16km/h. Digital controller technology delivers smoother and safer speed shifts. The treadmill deck, which offers a running space of 123 cm (l) x 41 cm (w), has a 16-point shock absorption system to minimise impact on the joints.
To make workouts more challenging, the S300 has:
20 incline levels
15 workout programs (3 customisable)
All of the workout programs can be accessed via the 5" LCD monitor display. Each program varies the speed and incline to push you to your limits.
To keep you entertained and motivated, the S300 offers:
USB connectivity to listen to your favourite music
Built-in, optimised speakers
Aux port to connect a phone or tablet
Console to place your device
The speakers deliver crystal-clear sound, eliminating the need for headphones.
The S300 has a folding design, so you can save space when the treadmill is not in use. The maximum user weight is 18.89 stone, or about 120 kgs.
Pros
Suitable for both beginners and experienced runners
Multiple programs and incline levels for more challenging workouts
Shock absorption system to minimise joint impact
Built-in speakers and ports for devices
Folds up in between use
Cons
Large footprint, even when folded
The only major complaint with the S300 is that, even when folded, it takes up quite a bit of space. The deck doesn't fold completely, and the bottom supporting bars don't fold at all.
Still, if you have the space, the JLL S300 is a great treadmill for anyone who wants a treadmill with robust workout programs and entertainment options.
2. Reebok ZR8
Backed by a respected name in the fitness industry, the Reebok ZR8 offers multiple workout programs, convenient handle controls and shock absorption.
The treadmill's deck, which supports a maximum user weight of 120 kg, is outfitted with Zig Tech Cushioning to minimise joint impact and noise. Hand pulse sensors help you keep track of your heart rate to optimise your workouts. The handlebars also have hand controls, allowing you to adjust the speed and incline safely and easily.
The 2 HP motor allows you to reach speeds of 16 kph with 12 power incline levels for challenging workouts.
The 3-window LED display allows you to track:
Calories burned
Distance
Time
Elevation
Speed
Heart rate
Through the console, you can also access the 24 fitness programs, designed by pro fitness trainers. The built-in speakers and phone port allow you to hook up your device and listen to your favourite workout music.
The ZR8 has a folding design to save space in between workouts. While this treadmill is still relatively compact (165 (L) x 74 (W) x 143 (H) cm), it still has a generous running area of 126 (L) x 41(W) cm. When folded up, this machine's footprint shrinks to 102 (L) x 74 (W) x 143 (H) cm.
Integrated transport wheels make it easier to move and store this treadmill in between uses.
Pros
Multiple workout programs and incline levels
Handlebar controls
Shock absorption
Built-in speakers
Folding design
Cons
The speaker output isn't the best quality, but the overall performance of the treadmill is excellent.
Overall, the Reebok ZR8 delivers great value for the money and delivers challenging workouts that will keep you motivated.
3. JTX Sprint-7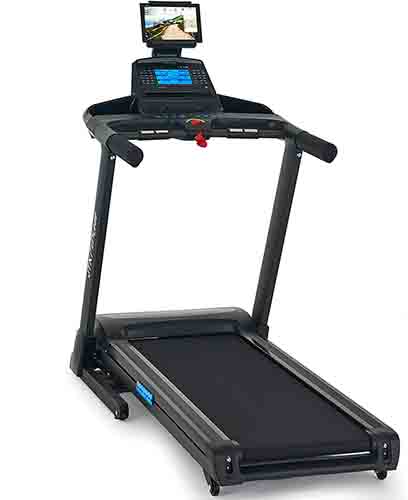 A large running deck, Bluetooth integration and built-in workout programs make the JTX Sprint-7 a high-quality home treadmill. The frame is constructed with heavy-gauge steel, and the treadmill is outfitted with high-grade ABS parts.
The Sprint-7 is reliable and durable enough for marathon training.
The large running deck spans 145 (L) x 51 (W) cm and features Cushionstep technology with an 8-point suspension system to reduce noise and joint impact. The powerful 3 HP motor allows you to reach speeds up to 20 kph.
The maximum user weight for this treadmill is 160 kg.
To increase workout difficulty, the Sprint-7 has 15 incline levels and 40 fitness programs designed by trainers.
The LCD monitor features Bluetooth integration and displays your:
Speed
Calories
Distance
Incline
Pulse
Program
An MP3 input allows you to listen to music through the built-in speakers.
The ergonomic handlebars have pulse sensors, allowing you to monitor your heart rate for optimal results.
A folding deck allows for easy storage in between use. Unfolded, this treadmill has dimensions of 179 (L) x 88 (W) x 159 (H) cm. When folded, the footprint shrinks to 120 (L) x 88 (W) x 159 (H) cm.
Pros
Heavy-gauge steel frame
Large running deck
Shock absorption
Fast speeds
Multiple incline levels and workout programs
MP3 input and speakers
Pulse sensors
Folding design
Cons
Workout programs aren't for everyone
The Sprint-7 boasts a huge range of workout programs, but advanced runners may find that many of these programs are useless because of the slow speeds.
Still, the JTX Sprint-7 is a high-quality, reliable home treadmill that both beginners and experienced runners will enjoy.
4. Branx Elite Runner Pro
Branx's Elite Runner Pro offers Bluetooth connectivity, a folding design, and near gym-level quality. Branx is the UK's premier fitness equipment specialist, and this model is one of the best in its class.
The Elite Runner Pro is designed to accommodate users of all sizes and fitness levels. This foldable treadmill offers:
Maximum speed of 21 kph
22 levels of incline
Cushioned, 10-point shock absorption system
6.5 HP motor
Maximum user weight of 160 kg
Body Mass Index (BMI) readout
One-touch speed function allows you to jumpstart your workout, and the handrails have speed adjustment controls for convenience. The 140 x 48 cm running area accommodates a wide range of user sizes.
The Dual Shock Absorption System is comprised of German-engineered springs, 2-ply running belt and an MDF running deck. The high level of shock absorption reduces joint impact and noise production during use.
The console features a 6" backlit LCD display, Bluetooth connectivity and built-in speakers. The monitor allows you to track your:
Time
Pulse
Calories
Incline
You can also access the 24 built-in workout programs, and there are quick keys for incline and speed.
Four transport wheels make it easy for one person to move this treadmill on level flooring. The folding design saves space in between uses, and the soft-drop system lowers the treadmill deck slowly all by itself.
Pros
Multiple workout programs and incline levels
Advanced shock absorption
Bluetooth connectivity
Soft drop system is convenient
Wheels allow for easy single-person transport
High-quality, durable build
Cons
The only complaint with this treadmill, and it's a minor one, is that the speaker quality is poor. But the overall performance, durability and quality of the Branx Elite Runner Pro is superb.
5. Confidence Power Trac Pro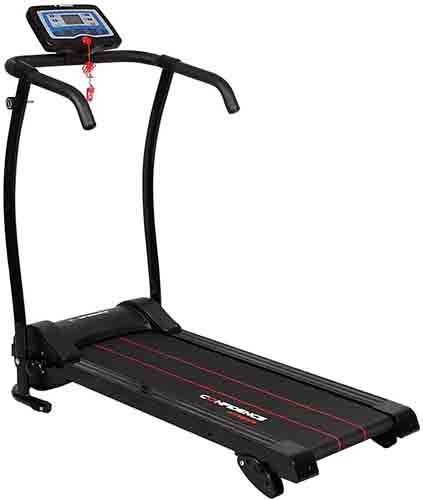 A no-frills treadmill that still delivers a great workout. The Power Trac Pro is a motorised treadmill with a true folding design, built-in workouts and manual incline levels.
Although simple in design, the Power Trac Pro can still reach speeds of 10 kph. Choose from four pre-set, quick-select speeds: 3 kph, 5 kph, 8 kph and 10 kph.
To make your workouts more difficult, there are three manual incline options: 2 degrees, 3.5 degrees and 5 degrees. The Power Trac Pro also has 12 built-in fitness programs, and the LED monitor displays calories burned, distance, speed and time.
The treadmill has a true folding design that saves on space in between uses, and can accommodate users up to 120 kg.
Pros
Incline options
Built-in workout programs
True folding design
Monitor tracks important workout stats
Cons
The primary gripe with this treadmill is that the speeds are pre-set, so you're limited as far as speed goes.
But if you're looking for a no-frills treadmill that will get you moving, the Confidence Power Trac Pro is a reliable, durable and practical option.
6. Nero Sports Pro Treadmill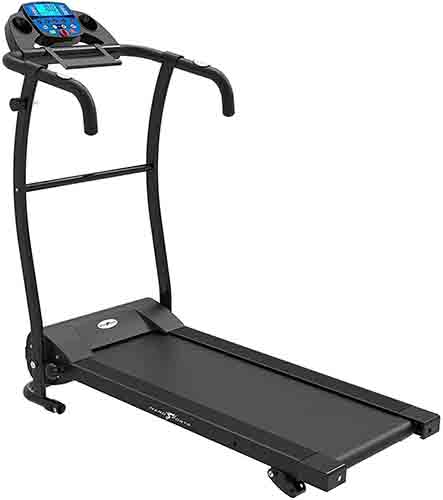 Bluetooth connectivity, smartphone app control and pulse sensors help make the Nero Sports Pro Treadmill an excellent home fitness option.
Smartphone controls, through the free app, allow you to track your fitness goals, log your workouts, compete against other users around the world, and run in real-world Google satellite maps.
The Nero Sports Pro Treadmill has three levels of incline to make your workouts more challenging. The on-board monitor allows you to track your time, speed, calories and distance. Pulse sensors help you keep track of your heart rate.
Choose between 12 auto fitness programs and the manual mode. Quick keys allow you to rotate between five speeds: 2 kph, 4 kph, 6 kph, 8 kph and 10 kph.
The Nero Sports Pro Treadmill has a tubular steel frame, so it's built to last. It folds up for easy storage and arrives 99% pre-assembled.
Pros
Arrives mostly assembled
Multiple fitness programs and incline levels
Bluetooth connectivity
Smartphone controls
Cons
Belt is a bit narrow and short
The belt on this treadmill is on the short and narrow side, which may make it a poor fit for some users. If you have a longer stride, you may want to look elsewhere.
Otherwise, the Nero Sports Pro Treadmill is a great option for anyone who wants the smartphone controls and Bluetooth connectivity this model offers.
7. Sunny Health & Fitness SF-T1407M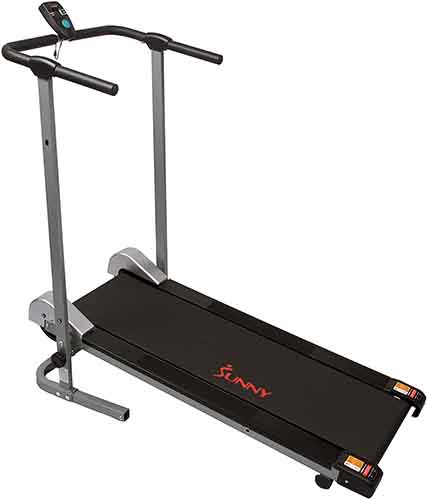 The SF-T1407 is a compact, lightweight treadmill that's ideal for users with small spaces. The running surface of 106.68 cm x 33.02 cm makes this model suitable for power walking and light jogging.
The SF-T1407 is unique in that it's not powered by electricity. The treadmill has a slight incline, which helps move the belt as you walk and makes the workout more challenging. The non-slip grips help you stay balanced and stable as you walk.
Its compact size and non-electric function make it ideal for small spaces and allows the treadmill to be placed anywhere. When you're done with your workout, fold up the treadmill and go about your day. The transportation wheels allow you to move the machine quickly and easily.
The SF-T1407 does have a monitor that tracks calories burned, time, speed and steps. The sturdy frame and deck can support up to 99 kg.
The manual operation of this treadmill saves you money on energy costs and the need to place the machine near an electrical outlet.
Pros
Compact design saves space
Manual function saves on energy costs
Monitor tracks workout stats
Incline for a challenging workout
Cons
Only suitable for walking or light jogging
The SF-T1407 can only handle walking or a light jog. If you want a home treadmill you can run on, look elsewhere.
But if you just want a compact treadmill that doesn't require electricity and will keep you moving, the Sunny SF-T1407 may be a great fit for you.
Treadmill FAQs
What are Incline Levels?
Incline levels attempt to mimic outdoor terrain. Increasing the incline raises the front end of the treadmill deck higher to simulate a hillside. The higher the incline, the steeper the "hill."
Treadmills with incline levels make workouts more challenging. They're comparable to resistance levels you find on ellipticals and other fitness equipment. The goal is to increase the difficulty and your fitness level in the process.
How do Treadmill Programs Work?
Many modern treadmills have built-in workout programs. These programs automatically take you through a warm-up, workout and cooldown, so you don't have to make adjustments manually.
Typically, workout programs vary the speed and incline levels to vary your workout, elevate your heartrate and help you achieve your desired results.
Are Folding Treadmills Sturdy?
Yes, folding treadmills are just as sturdy as non-folding models , this is not always the case with folding exercise bikes for example. Many have hydraulic systems that make it quick and easy to raise and lower the treadmill deck.
Related: