Lonsdale's exercise bike offers ample features for beginner and intermediate athletes. Immediately, you'll notice that the price is very affordable, making it one of the best entry-level exercise bikes on the market.
And with a cool grey design, you'll be able to put this exercise bike in any room without worrying about it standing out.
I'm going to dig deeper into this model in our review of the Lonsdale Exercise Bike.
Our Verdict: Lower than average build quality, check out our recommended bike below for better value for money: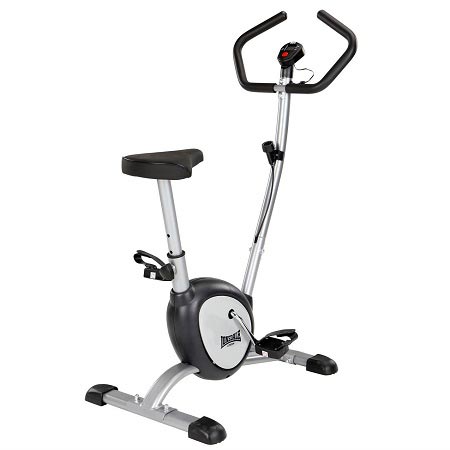 Features
Lonsdale provides affordability and must-have features that will allow you to gain muscle, lose weight and enhance your fitness level. This model's specifications and features at-a-glance include:
Manual resistance levels
Computer monitoring system
Free tension control system
Adjustable pedal straps
Adjustable seat
11kg weight
114cm x 70cm x 54cm dimensions
Padded saddle
Dual digital display
Sturdy and reliable, this is the lowest price for an exercise bike that you'll find. And at the heart of this unit is a steel flywheel that remains enclosed. There's a rubber friction belt that provides constant resistance during your workout.
Resistance is essential when trying to build muscle, enhance your stamina levels and lose weight.
Assembly Made Easy
Self-assembly is required, but don't worry about complexity or issues during the assembly process. Lonsdale makes assembly a breeze, and since the entire unit weighs a mere 11 kilograms, you shouldn't have an issue assembling the bike yourself.
The assembly instructions provide ample guidance to have your bike up and ready for use in 20 – 30 minutes (often much less time is needed).
When assembling the unit, don't forget to install the battery for the monitor. You'll need just one, AA battery, which Lonsdale includes with your purchase. The battery will last a long time – months or longer – depending on usage.
That's about it for the assembly process, but before you go for your first ride, there are a few adjustments you'll want to make.
Adjustments for Comfort and Form
Lonsdale allows you to adjust your riding experience, and this is an essential part of this exercise bike. When you make adjustments, this allows you to maintain proper form and comfort when riding.
You'll be able to make two main adjustments:
Seat: The seat can be adjusted up and down. You want to adjust the seat so that your knees aren't less than at a 90-degree position. You need to comfortably be able to ride without causing knee pain in the process. A knob below the seat is how you adjust the seat up and down. There are four main level adjustments available.
Straps: The foot pedals also have straps attached to them. Straps allow you to secure your feet in place so that they don't move mid-motion. You want to make the straps tight enough to secure your feet yet loose enough that you don't cut off circulation to your feet.
You'll notice that the seat is amply padded to allow for a long session with no aches or pains.
These are the two main adjustments that you'll need to make aside from the tension levels, which I'll discuss next. While basic, the lack of available adjustments makes this a simple exercise bike to start using. A lot of models are so complex to use because they offer a dozen different adjustments.
Resistance Adjustments for Every User
The handlebars are comfortably placed and well-padded to allow you to enjoy maximum comfort when biking. Since there is no adjustment option here, there's little to talk about with the handlebars themselves.
But underneath the handlebars is the unit's resistance knob.
You can quickly and easily adjust the resistance using the knob. This is the key to gaining strength and muscle.
Computer Monitoring
A basic monitor is included that will provide you with ample metrics to follow during your workout. The metrics that are displayed on the monitor include:
Time
Distance
Calories
Scan
If you choose scan, it will cycle through all of the metrics so that you can see how you're doing during your workout. It's a full body workout that is low impact, so it's a great choice for older users or people with joint-related issues, such as bad knees.
The monitor only has one button, so it's as simple as possible to use.
If you want to enjoy a manual workout, you can simply shut the monitor off to save battery life. Nothing gets in the way of your workout when you use this exercise bike. It's a superb entry-level model, and for the price, you won't find anything better.
Pros
Lightweight design and small footprint
Easy to setup and make adjustments
Padded seat and adjustments allow for customization
Ample rubber protectors for hardwood floors
Cons
There's not much to complain about with this exercise bike at this price range. Yes, there are some features that I would love to have, including electronic tension adjustment, but you won't find that at this price.
Basic monitoring is the norm for models in the low-end price range, but that doesn't mean this is a bad exercise bike.
It gets the job done.
And the durability and adjustments make this a great buy overall. You'll be able to adjust the seat and straps to allow for proper form when cycling, which is the most important thing when cycling.
Tension adjustments provide moderate resistance that will increase the intensity of your workout so that you build muscle and strength.
You can even assemble this exercise bike without needing help. You'll be cycling within a half hour.
Muscle growth is dependent on time under tension. When riding a bike, resistance allows the quadriceps and calf muscles to engage, allowing you to enjoy a muscle-building workout. Muscle, on its own, requires more energy from your body to be able to persist. What does this mean? A pound of muscle requires more calories to sustain than a pound of fat. In essence, you'll burn more calories at rest when you build muscle. If you would like to find out more about muscle growth then Click Here.
Tension will make it easier to lose weight, maintain weight and build muscle.
If you found our Lonsdale Exercise Bike Review useful then make sure to check out some of our best home exercise bike guide.
Save
Save
Save
Save
Save
Save