Turbo trainers are an easy and effective way of continuing to use your bike when the weather is horrendous, and the dark nights make it difficult to cycle safely.
Depending on your experience and goals, choosing the right trainer for you can be confusing with so many models on the market.
As a result we have collected a number of turbo trainer reviews and arranged them into our Best Turbo Trainer guide to help simplify the process.
1. Kinetic Rock and Roll – Best Smart Trainer
With its affordable price and great user reviews, the Kinetic rock and roll Smart trainer is our number one choice.
The money you spend brings  an amazing array of features:
Progressive resistance levels
You can pair it with android and Apple devices using Bluetooth
It has a set of built-in workouts
Has a free app to manage your program and give performance information
Although it weighs just 15 kg, it is an incredibly high quality build, that gives you a rock solid base that delivers consistent performance that seriously mirrors the one you would get outside.
But the star of the show is the kinetic app that is linked to the trainer via Bluetooth. The app is available for Apple and android, and has an incredible range of features, plus is easy to use.
When you add to all that the lifetime warranty on this model, you are really getting some serious bang for your buck, especially when compound machines can cost double the money.
2. Jetblack Z1 Pro Fluid Indoor Training Rollers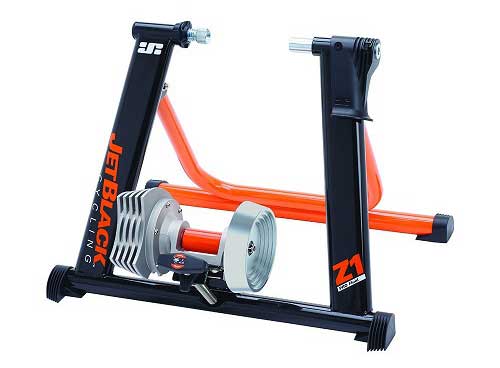 Our second best choice for a turbo trainer that is both high in quality and features, but at an affordable price is the Jetblack Z1 Pro.
This is the latest design of this model, which has been made more efficient by reducing friction, extending the life of the machinery, reducing noise by 55% and reducing tire wear 25%.
That's a huge improvement on the previous versions, and the reason why it has now kicked up into being a serious choice at a reasonable price.
The Z1 Pro has the following key features:
Quick release lever design
Very easy to set up and get going with
Single axle engagement design delivering one action entry and release
3 kg flywheel delivers close to road performance and feel
Comes with a training app
The training app is not as comprehensive as our number one choice smart trainer, but it's still offers you a good range of training options.
In terms of performance, you will hear a little bit of a hum when you first start cycling, but once the machinery warms up, it is almost silent and delivers close to perfect performance.
This was close to matching our number one choice, as it does also come with a lifetime warranty. But what lets it down slightly is that the training app is not as good.
3. Elite Novo Force – Best Budget Model
Coming in third is the high performance Elite Novo Force. This is in a completely different price range to our top two, averaging around £115, which is less than half the price.
But is it half as good? Well in our experience, the answer is an emphatic no.
This is a lightweight, set up and go, entry-level trainer. It lacks the fancy bells and whistles, it's not as stable, and it's certainly not the best long-term solution.
If you are looking for something you can just chuck down, use and then store away quickly, this is something you definitely be looking at.
In terms of features, the Elite Novo Force has all the basics:
Smooth and quiet resistance levels
Eight levels of resistance
Lowers tyre wear by 20%
Low weight and size for easy storage
So this is a great resistance trainer for people who just want to get on with it, and who don't want to spend a lot of money on indoor resistance cycle training, but who want something that will allow them to progress for some time.
There is an optional upgrade which allows you to then use a Bluetooth app. It's not a huge amount of money and it will dramatically increase the range of training you can do, while relieving some of the boredom a lack of interaction can bring.
But generally, if you are looking for an entry-level resistance trainer, then the Elite Novo Force could be just what you're looking for.
4. Velo Pro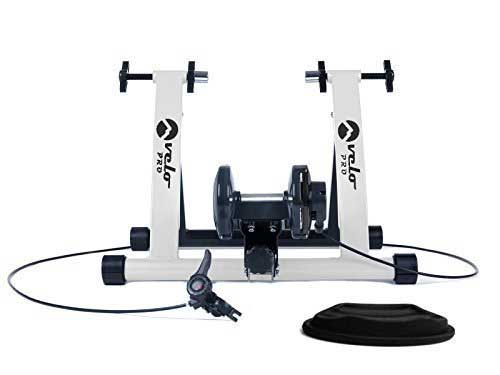 This trainer is available from around £80. That's an amazing price for what it does, and it puts it right down in the bargain basement, but without the lack of performance.
You must not be put off by the cheap price, this really can do everything you need at the basic level. But don't take our word for it, on Amazon it has an average rating of 4.4/5 with 61% rating it five-star.
In terms of features, they are obviously fewer than the more expensive machines out there, but you do get a great range of sturdy basics:
Six resistance levels
Incredibly quiet
One click on and off by quick release axle skewers
All steel and aluminium construction
Folds away easily for storage
Weighing in at just 8.5 kg, you are not going to get top resistance levels. But you do get a good basic range, and by using the gears on your bike you can increase the resistance to help get a good workout.
5. Tacx Blue Matic Folding Magnetic Trainer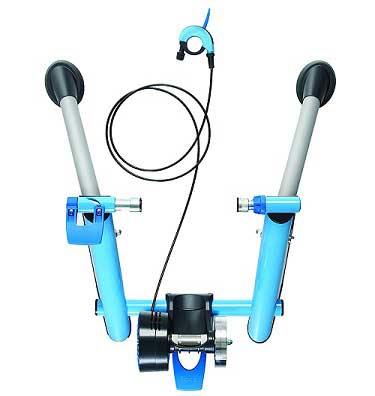 In fifth place is another budget folding trainer. The Tacx Blue Matic is specialist because it was developed by a cycling company over many years. But what's gone into it has not increased the price.
Although simple and lightweight, it does pack in great performance:
Eight magnet proprietary resistance
10 position handlebar resistance for fine tuning
Maximum resistance of 700W
Optional software
What makes this model different is that it uses a magnetic brake rather than a flywheel, which allows for a lighter weight and more sensitive adjustment of resistance levels.
With easy mounting and removal of the bike, and the ability to store easily, this trainer really is great value for money, and one that deserves serious consideration.
6. BDBikes Bike Magnetic Turbo Trainer
Available for around £60, this really is one of the cheapest ways you can start experimenting with the benefits of a trainer in the comfort of your own home.
It's a high quality build, with good resistance and on top of that you get front wheel support included, something none of the others give you free.
In terms of features, obviously as you would expect they are basic, but cover everything you would expect:
Arrives fully assembled
12 month warranty
Uses 12 opposing magnets to deliver high-quality resistance
Six levels of resistance
Quick release system
Folds away and is only 7 kg for storage
User reviews are also superb. On Amazon there are 650 customer reviews, of which 70% are five-star, which tells its own story.
This can be a little noisy, and you may need to use a special tyre to minimise the noise and get best results, but generally if you're looking for a budget way into experiencing training in your living room, then this is an awesome buy.
Which One Should I Buy?
Any of our hot list will get you started with the minimum of fuss. All offer great core features, good resistance levels, easy set-up and storage, and you won't be disappointed.
But obviously you get what you pay for. That's why our number one choice, the Kinetic Rock and Roll Smart Bike Trainer includes a dedicated app so you can target performance better, get information readouts and relieve boredom. On top of that it's more nuanced in the levels of resistance and performance levels you can reach.
But when you can get a good trainer for around £60 as well, it really means that absolutely anybody with a bike can get started with indoor fitness, or maintaining that fitness and sharpness ready for when the weather and circumstances improve.
The Benefits
Allows you to continue using your bike all year round.
You can keep your physical fitness higher at all times by getting in the saddle as often as you want, regardless of circumstances.
When it's not safe outside, you can continue to cycle at 100% without endangering yourself by cycling safely indoors.
Allows you to concentrate on a certain performance area. That's why professional cyclists use them as a supplement to their road miles each year.
Enables you to stay at a constant performance level, without having to worry about junctions, traffic and undulations.
A trainer really can be the difference between struggling with your cycling and pushing through to the next level and enjoying a higher level of performance.