Modern day people tend to have very busy schedules and find it hard to make the time to help keep a level of fitness that is "healthy". It can be difficult to make the time to go to the gym and jump on an exercise bike for half an hour especially when you consider the time it takes to get to and from the gym.
This has resulted in the creation of a nifty little invention called the "mini exercise bike". This little gadget is designed to be so small that you can easily move it about, allowing you to workout  wherever you are and when you have a little bit of time to kill.  As you can see it is basically a little stand with the pedals from any normal exercise bike but without all the seating and handle bars. You can place the device in front of any chair that you are sat on and pedal away. So instead of having a numb bum from being sat on an uncomfortable saddle you can now "sit back and enjoy the ride."
The contraption is very simple looking, however it can be used in few different ways and some have different features to give you a different workout. I will briefly go through the features you can find on these mini exercise bikes, the benefits of using them and quickly talk about two that I have personally been able to try and let you know what I think. Hopefully this will help you with selecting the exercise bike that is suitable for you.
Benefits of using Mini Exercise Bikes
You will most likely have heard a number of times on the news about how working out 3 – 4 times a week for 30 minutes can dramatically improve your health and fitness. Doing 3 – 4 workouts a week may sound like not too much, but believe me there really aren't enough hours in the day! This is where the mini exercise bike comes in handy and helps you to take advantages of its benefits.
Will help you lose weight
Using an ordinary exercise bike can burn up to 326 calories in 30 minutes for an 185 Lb individual. If you are thinking you're not sure you could last cycling for 30 minutes, then don't panic it is possible to adjust the resistance of the bike to match your fitness level. Once you get into the routine of getting your workouts done you will be surprised at what a difference 30 minutes cycling here and there can make.
Cost less than a monthly gym membership
It is common that after Christmas you see a massive increase in people signing up to gyms with good intentions of improving their fitness after over indulging over the Christmas period. However you always hear after a month or so they aren't going to the gym as often as they had intended for a number of reasons, but they are still paying the membership. Instead of wasting your money you are better off investing in a bit kit such as these mini exercise bikes which tend to be relatively cheap to buy. With this improved consistency you will most likely get better results than joining the gym and trying to lose weight that way.
Very good for rehabilitation after injuries.
I used to play a lot of rugby and I have had times where I have picked up an injury and been unable to walk let alone train. So it was important that I had a way to maintain my fitness while I recovered. A number of the mini exercise bikes have the option of using your hands instead of your feet to carry out the exercise. You simply plonk it on the table in front of you and go for it.
Whenever and wherever you want
It is so useful to have something that is so easily transportable. It adds a level of flexibility to your workout that you don't tend to find with many other pieces of fitness equipment. This makes it much easier to make your fitness goals a reality whatever they may be.
Pros
Cheapest form of exercise Bike
Light and portable
Can be used to train either upper or lower
Doesn't take up much space to store
Suitable for a wide variety of people with different fitness level
Cons
Often the machines can only take up to 130 Kg weight
Have to remain seated while exercising
Top Two Best Mini Exercise Bikes
1.      Confidence Sit Down Mini Exercise Bike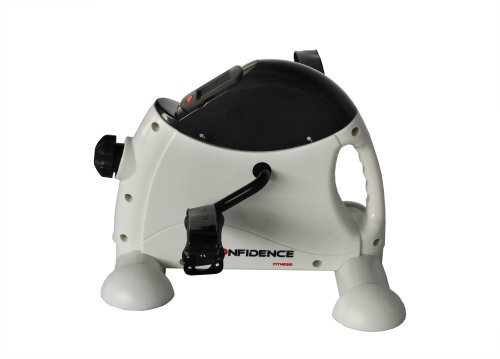 Main Features
Can be used for arm or leg exercise
Easily adjustable tensioner for varied resistance
Dimensions 43 x 38 x 31 cm
Weight: 6 Kg
LCD screen displays speed, time, revolutions per minute, calories burned and distance traveled.
This is a fantastic little piece of kit and does exactly what it says on the tin. It uses a belt to resist against a wheel which is attached to the pedals to create the resistance. I have heard of some people having very minor issues such as the smell of plastic…. If that's all the people are complaining about I would call it a success. It definitely gets my approval for value for money as it costs under £50.
2.      Aidapt Deluxe Motorised Pedal Exerciser
Main Features
12 speed settings
Can be used for both arm and leg exercise
Programmable Exercise Time
Digital display showing calories burnt, number of revolutions and time
Remote control to change speed
This model uses electric to help move the pedals. You may think this sounds a bit odd for a mini exercise bike, however it is very useful for a rehabilitation and to improve blood flow. If you have any issues such as problems with your knees this helps to reduce the impact on the knee and is often used after any kind of surgery to help rebuild your strength