Below we have selected what we think are some of the top recumbent bikes available on the market right now. Before that though, we have put together a quick comparison table of the most popular models.

Here is our list of the best recumbent exercise bikes on the market:
1. JLL R100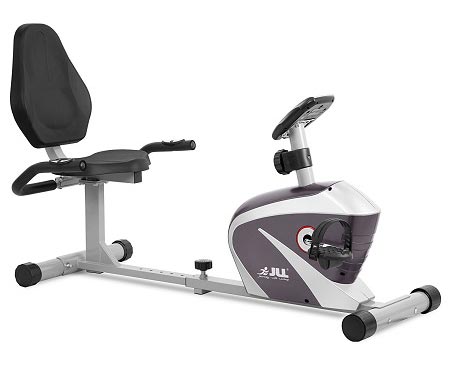 Specification
8 Levels of Magnetic Resistance
Display: Speed, Heart Rate, Distance, Time and Calories
4 kg two-way flywheel
12 months warranty
Max user weight 100 kg
Heart rate sensor
The second I sat on the seat I knew I was going to have a good workout and not be sat there staring at the timer trying to make it go faster. I do believe that if you want to be consistent with your fitness/ health goals then making your workouts tolerable is half the battle.
It is comfortable, compact and quiet. I thought that an issue with these recumbent bikes would be the amount of space that they would take up. However I was pleasantly surprised with the size and design. As the bike uses magnetic resistance it is very quiet which means you can get out of bed in the morning before work and have a quick workout and not wake up the entire house.
I try to find good and bad points with all the products I review, however with this particular bike I really can't fault it as the quality is brilliant for a very respectable price.
2. DKN RB-4i
Features:
11kg flywheel
32 levels of digital resistance
Large LCD display that tracks: distance, time, calories, speed, watts and pulse
12 pre-programmed workouts
4 pulse grip sensors
Product weight 50Kg
Max user weight 150Kg
2-year warranty on parts and labour
Bluetooth connectivity
The DKN RB-4i is the most expensive model in our top 5 but just from glancing at the features list it is clear why. This unit wouldn't look out of place in a commercial gym.
When looking for a good quality exercise bike a good indicator of the bikes capability is the weight of the flywheel, this model comes with a 11kg flywheel which is significantly heavier than any of the other models in our top 5. This creates a smooth fluid motion as you are pedalling and means the maximum resistance will be greater.
To change the resistance, it couldn't be easier, simply use the digital display which allows you to pick from the 32 different levels of resistance.
The monitor comes with 12 pre-programmed workouts which are split into 3 groups: beginner, advanced and performance.
Programmes like these help with people who are just getting back into exercise and want some direction, allowing them to push harder and achieve their desired results quicker.
It is also possible to enter personal data such as you age, height, weight etc, which makes the monitor more accurate. You can save multiple user profiles so you won't have to renter the data every time after someone else uses the bike.
The DKN also comes loaded with Bluetooth connectivity which allows you to download the DKN iWorld and DKN-Motion apps to your smart device such as your iPad. This allows you to virtually cycle certain routes all around the world and do many more things like create your own workouts.
Features like this are great to help prevent your workouts from becoming stale, making exercise a much more enjoyable experience.
The only downside of this model is that it is quite heavy so if you are short of space and want a model that is easy to pack away in-between workouts then you might want to get a slightly lighter model.
Quality has clearly been the focus for the DKN RB-4i and its sturdy design didn't budge while I put it through an intense high intensity interval training workout. The only reason this model isn't rank no. 1 is because of its price. It is my personal favourite machine of choice however, it may be overkill if you are just getting back into exercise. However, if you feel that you would get your monies worth then I would highly recommend this model.
3. XS Sports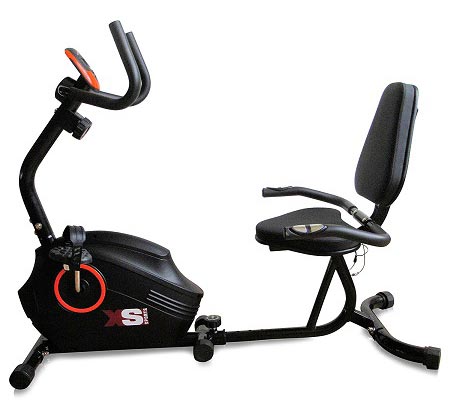 Features:
4kg two-way magnetic flywheel (pedal forwards and backwards)
LCD display tracks: speed, distance, time, calories and pulse
Built in heart rate sensors
Max user weight – 110Kg
Product weight – 28Kg
We have reviewed a number of XS sports products and I've always been delighted with the quality of workout you get at such an affordable price.
This model uses magnetic resistance that allows you to easily choose between the 8 different levels of resistance using the knob under the display. The added benefit of magnetic resistance helps to ensure that the bike is as quiet as possible while you are using it.
The display is basic but clear and provides you with all the information you need such as speed, distance, calories, time and pulse. There is only one button on the unit and you keep pushing it to cycle through the different metrics.
The heart rate sensors are built into the handlebars beside the seat and are easy to hold onto while you are exercising. The readings I got seemed to be accurate even though I never normally trust them entirely, but it gives you a rough idea of how hard you are working on the bike.
This is the cheapest model in our top 5 which will make it appealing to beginners that don't have the confidence to buy models such as the DKN or Kettler. It offers fantastic value for money and will no doubt give you great workouts for years to come.
4. V-Fit G-RC Recumbent Magnetic Bike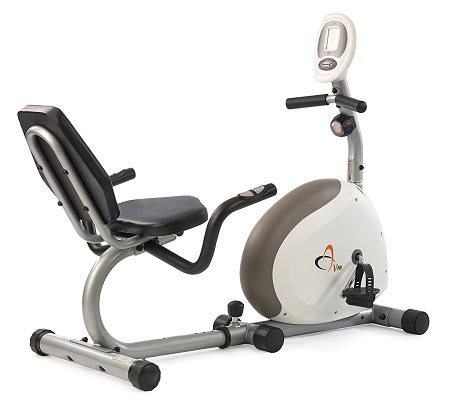 Specification
6kg flywheel electromagnet system
8 level adjustable resistance
7 function display, calories, distance, hand pulse, scan, speed, time and distance.
Heart Rate Sensors
Max user weight 110kg
The first thing I noticed about this product that not a lot of other home gym equipment pieces provide is tools to put the equipment together. This may sound like not a big deal but it does make life easier.
Some of the other recumbent bikes on the market can cost an absolute fortune therefore if you want a recumbent bike then it can leave you with a large dent in your bank balance. However this model is considerably cheaper and does exactly what is meant for. It is perfect for someone who is looking to keep fit or anyone who needs to do some rehab.
One potential problem I have heard about this product is that some people found it took a long time to assemble. However I do think that this is just one of those things as I managed to put it together in no time at all and some others seemed to cope just fine.
5. Kettler Premium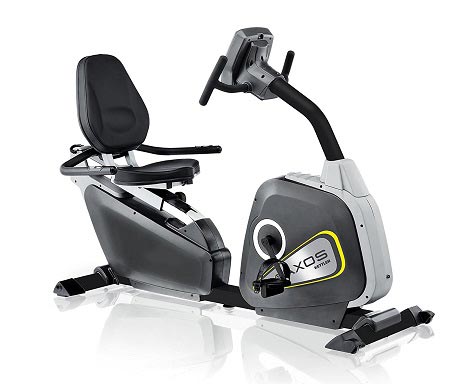 Specification
Electromagnetic resistance with 16 levels
LCD display , distance, speed, time, pedalling speed, energy consumption time and date
12 programmes
Compatible with polar heart rate monitor chest strap (extra)
Max User Weight 110 kg / 130 kg
9kg flywheel
This model is slightly more expensive than the other two bikes but I am a fan of the Kettler bikes. They make some great quality products and this recumbent bike lives up to that expectation. It wouldn't look out of place in any commercial gym while only costing a fraction of the price a commercial gym would pay.
It is almost silent when working out and very comfortable to use. It has some very good workouts preloaded into the computer allowing you push yourself further and it even has a heart rate controlled option which is very useful as the workout adapts to what your body is telling it.
The only little issues I can see are that there isn't a bottle holder which can be awkward when you have to put your bottle on the floor and lean over to get it. Also the power connector is at the front of the machine which can be annoying because if you don't point it at the wall you have to run the lead alongside the machine. But however there minor complaints don't really affect your workout. If that the worst things I can think of about the bike then they have done a pretty good job in my opinion.
Overall I would say you definitely get what you pay for with this bike and would recommend it to anyone from beginners to experienced users.
Why Get A Recumbent Exercise Bike?
Chances are that if you are looking at this page then you are interested in the benefits of a recumbent exercise bike in comparison to an ordinary upright exercise bike, or you are considering buying one for at home.
Related: Home exercise bike reviews guide
I shall try and point out a couple of the key differences between the two types, which may make you want to give one a go. I have also done a quick comparison of a few stationary recumbent bikes that you can find on the market. There isn't as much variety available when compared to the upright version so I shall try and show you features to look out for.
I remember when I first saw a recumbent bike and thought "isn't that just a slightly lazier way to cycle?" Well turns out it actually has been designed to meet certain different needs of users that the upright bike can't help with.
Firstly if you look at the images below of an upright exercise bike and a recumbent you will notice how if you are sat in the correct position on an upright bike you are leaning forwards slightly.
If you have any kind of lower back pain then this can be an uncomfortable position to sit in while exercising. Whereas with the recumbent bike you will notice how the users back is supported by the seat helping to eliminate this issue. This also applies to anyone with neck pain as you don't have to support/ hang your head while exercising on a recumbent bike as you are sat up.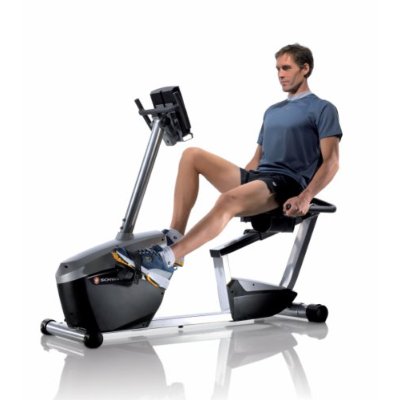 Secondly the different positioning of the pedals in relation to the seat means that you work your muscles in a slightly different way. You tend to find that with the upright bike your quadriceps take the majority of the load whereas with the recumbent bike the quads engage however you will find that your hamstrings and glutes do a lot more of the work. Therefore if you are looking to build that booty maybe you should try a recumbent bike next time and see what you think.
It has been found that recumbent bikes are slightly easier to use than the upright bikes as the body doesn't have to work quite as hard to hold the body in a leaning position making it easier for the heart to pump blood to the muscles where it is needed. I found these kinds of bikes are particularly useful for my Low Intensity Steady State exercise.
It makes the thought of jumping on an exercise bike not quite such a dreaded task as you don't get the numb bum half way through your workout, wriggling around on the seat trying to bring it back to life! The positioning of the seat also makes it much easier for anyone with mobility issues to get on/ off the bike as it tends to be much lower and more stable.
When I am really looking to burn some fat but I am short of time, I do like to do some interval training and I thought that it may be an issue trying to do intervals on a recumbent bike, but it works just as well as with the upright version.
Save
Save