Looking for an exercise bike you can grow with? The JLL IC300 may just be the right choice for you. An 18kg flywheel and adjustable resistance levels allow you to make your workouts as light or as challenging as you want. Not only does this bike have a sleek design, but it's also built to feel just like you're riding a bike.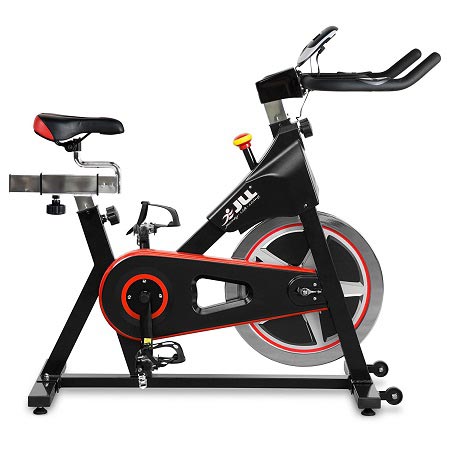 JLL IC300 Indoor Cycling exercise bike at a Glance
18kg flywheel
3-Piece crank system
Direct chain driven
Ergonomically-designed adjustable handlebars; adjustable seat
Heart rate sensor
On-board monitor
Built-in wheels
Adjustable resistance
Maximum weight: 130kg
Features and Performance
The JLL IC300 is a cycling exercise bike designed for both beginners and serious athletes alike. With multiple resistance levels and an 18kg flywheel, this bike can provide a challenging workout for even the most advanced users. The resistance knob is located just below the digital monitor for easy access while you're working out.
The digital monitor tracks multiple stats, including your speed, distance, calories and pulse. Heart rate sensors are also located on the handlebars of the bike, so you can monitor your heart rate during your workouts.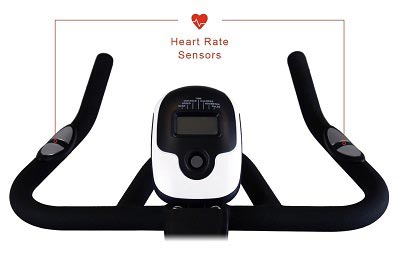 What's really great about this bike is that the pedals feature a 3-piece crank system. This makes it feel just like you're riding a real bike, but it also makes the bike more durable. Driven by a direct chain, you can pedal backward or forward with ease. Plus, the bike's pedals are extra comfortable thanks to the secure foot cage.
Everything about the bike's design makes it comfortable to ride. The handlebars are ergonomically designed. Both the seat and the handlebars are also adjustable, so you can find the right height for your own unique body type. It's not exactly an upright bike either, which adds to the whole feeling of riding a real bike out on the open road. And although it's not the most important feature, this bike also comes with a water bottle and water bottle holder.
The built-in wheels are designed to make the bike easy to transport. It's still quite heavy, but it makes moving less of a chore.
Pros
Designed for both beginners and serious athletes. This is a bike you can progress with.
Ergonomic and adjustable handles; adjustable seat.
3-piece crank system to give the feeling of riding a real bike.
Built-in wheels make it easier to transport.
Multiple resistance levels allow for challenging workouts.
Cons
Resistance levels are unclear
Although it's great that this bike offers adjustable resistance, the controls are a bit unclear. There are no levels, or numbers, to indicate how high or low the resistance is. Just a simple plus and minus sign to indicate which direction you're adjusting. While this isn't really a deal-breaker, it's a minor inconvenience.
All in all, the JLL IC300 is an exercise bike that will give you a challenging workout. With multiple resistance levels and an 18kg flywheel, this home fitness bike is a great choice for users of all fitness levels. And as an added bonus, the bike comes with a 12-month warranty.