There are a lot of folding exercise bike reviews online, making it difficult to know which models are good value for money.
In this guide we've assembled some of the best folding exercise bikes on the market, for a range of budgets and requirements. So there's no need to waste your time reading hundreds of reviews.
Editors' Pick
From beginners to experienced users, you'll be able to find a bike that won't end up being a waste of space.
Take a look at the different categories below to get started:
Best Folding Exercise Bikes – Top 11
1. Ultrasport Unisex F-Bike Bicycle Trainer
Our overall top pick has to be the Ultrasport's Unisex F-Bike as it is the perfect choice for anyone looking for an ultra-compact, easy-to-store exercise bike.
This model also featured in our overall best exercise bike buyers guide.
Fully collapsible, the F-Bike helps you improve your cardio and fitness level with a pulse reader to help users push themselves to their limits.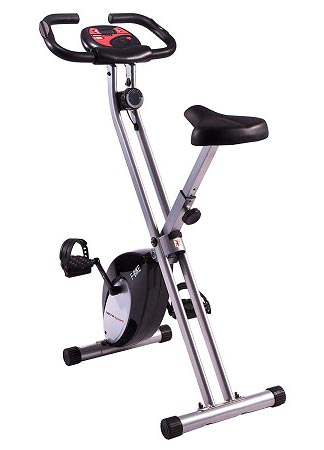 Eight resistance levels add tension to the workout, allowing users to find the perfect resistance for burning calories and room for improvement.
Want to track all of your metrics?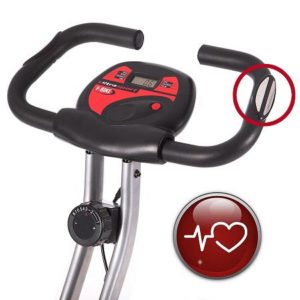 The training computer comes with an easy-to-read LCD display that shows important user stats, like:
Time
Scan
Calories
Speed
Distance
Pulse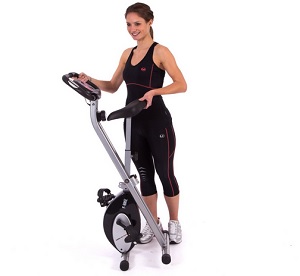 The weight capacity of the F-Bike is 100 kg. An F-Bike Heavy model is available for users up to 130 kg. The seat is adjustable and padded, which allows for a comfortable biking session.
The only downside to this bike is that the highest resistance levels may not be challenging enough for experienced users. However, if you are a beginner then this bike offers a great cardio workout with a low price tag.
Read more about this bike in our Ultrasport F Bike review.
2. Exerpeutic 525XLR – Best Folding Recumbent Exercise Bike
Our top pick folding recumbent exercise bike is the Exerpeutic 525XLR.
The 525XLR is a unisex, grey and black recumbent bike that offers a heavy-duty steel frame. Compared to the Exerpeutic 400XL, which is the older version, the 525XLR offers 27% more steel while still being able to fold down for maximum space-saving ability.
With the extra steel this bike is very sturdy, but it is slightly heavier than most other folding exercise bikes, however with the transport wheels it's still easy to move.
A large seat cushion and backrest make the 525XLR a comfortable choice for users.
Seat adjustments allow users between 5'2″ and 6'5″ to fit comfortably on the bike. Getting on and off the seat is easy thanks to the semi-recumbent design.
There are eight magnetic resistance levels to add difficulty to your workout and the dual transmission flywheel allows for a quiet, consistent resistance.
Once folded, the bikes footprint is almost halved, making it much easier to store. There are extended leg stabilizers and large pedals to prevent tipping and foot slippage. Users up to 181kg can use the 525XLR with confidence.
There are hand pulse sensors as well as an LCD display that shows the user's:
Distance
Calories
Time
Speed
Pulse
The scan function allows you to view all these metrics whilst you exercise.
Two AA batteries are required (these are included) to operate the on-board LCD display.
3. Roger Black Gold Folding Exercise Bike

Our top choice upright bike has to be the Roger Black Gold Folding Exercise Bike.
This bike provides a smooth, quiet workout while still being heavy duty and perfect for daily use. The model has a quick release knob that allows users to adjust the height of the bike to their desired level – perfect for maintaining posture.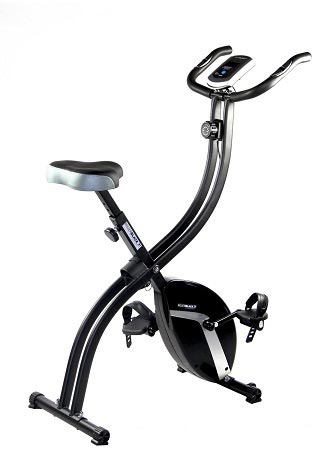 8 levels of magnetic resistance allow users of different abilities to get a good workout. Tension is controlled via a knob that sits underneath the console.

A 3 kg flywheel ensures a smooth, quiet ride while the self-leveling pedals come with straps to keep the rider's feet perfectly in place.
Your heart rate is monitored by the hand grip sensor system and is displayed on the console.
The console provides all the must-know metrics of your workout:
Pulse
Calories
Speed
Distance
Time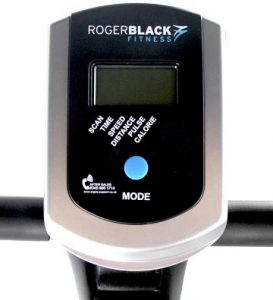 The maximum user weight of this model is 100 kg which will be able to accommodate the majority of users.
The bike itself weighs 17.6kg which is relatively light compared to others.
One gripe we had with this bike is the seat isn't the most comfortable, so it might be worth getting a gel seat cover.
4. Skandika Foldaway Fitness Bike x1000
Our next choice is the Skandika Foldaway Fitness Bike x1000.
This model offers eight levels of manual, magnetic resistance to increase the intensity of your workouts.
The seat is wide and comfortable, so there is one less thing to worry about on long workouts.
The transport wheels allow you to easily move the x1000 from one room to another, and at 16.5kg you could even carry it.
There are hand pulse sensors to help you hit your target heart rate, which is great for maximizing the number of calories burned.
An LCD battery powered display tracks the following 5 key metrics:
Calories
Pulse
Distance
Speed
Time
A 2.6 kg flywheel allows for quiet, smooth operation through your entire workout.
Like most of the other folding exercise bikes, the max. user weight is 110kg.
The display on this bike is quite small compared to others, but unless you are keen on having a high tech console, then this shouldn't be an issue.
5. XS Sports Magnetic Foldable Exercise Bike – Best Lightweight Bike
In this category we have chosen folding exercise bikes that are lightweight and compact. Perfect for anyone who is short on space and would have difficulty moving heavier bikes.
Top of our list is the XS Sports Magnetic Foldable Exercise Bike, with a 1.6kg flywheel and an overall weight of 14kg, this is one of the lightest folding exercise bikes around.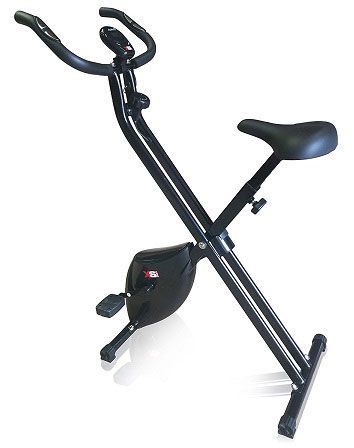 Unlike the previous models in our guide, this bike has no set resistance levels, instead it has a variable magnetic resistance which is adjustable via a dial under the console.
There's extra padding on the seat according to the manufacturer and it seems to have done the trick as very few users complained about the seat.
Pulse sensors are built into the handles so you can track your heart rate during your workout.
A no-frills LCD display offers accurate readings of your:
Distance
Speed
Time
Calories
Pulse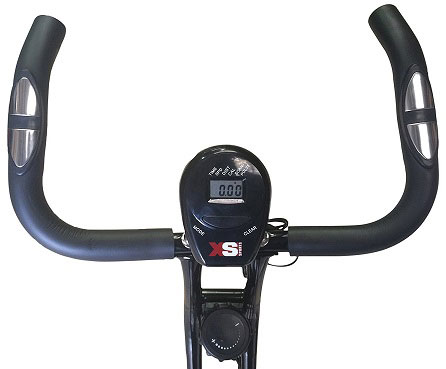 Resistance adjustments are made via the knob that sits right under the display. With a maximum user weight of 100kg it's a bit lower than most other models, but should be able to accommodate the majority of users.
6. Roger Black Folding Exercise Bike
For our next bike we have the Roger Black Folding Exercise Bike.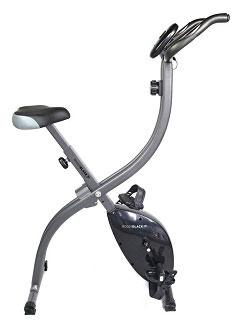 Roger Black's folding exercise bike is a lightweight design that's perfect for home use. This model offers eight resistance levels, which is controlled by a knob under the console. The resistance is generated by the 2.5 kg flywheel which is also surprisingly quiet.
The hand grip sensors help you track your heart rate, however we found it to be slightly inaccurate compared to others. The console provides feedback similar to what we've seen with previous models we've reviewed:
Calories
Pulse
Speed
Time
Distance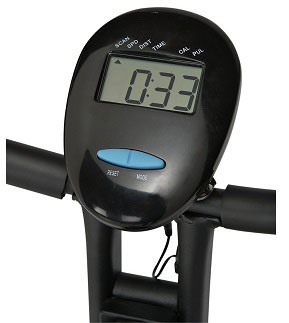 Pedals are designed to be self-leveling and also come with straps to keep the user's feet firmly in place. The seat is fully adjustable to allow users of different heights to comfortably cycle.
7. Proform Unisex X Duo Folding Indoor Exercise Bike

Our favourite high-end folding exercise bike is the Proform Unisex X Duo Folding Indoor Exercise Bike, a new model that has just been released.
At first glance, we were impressed with the sleek design of this bike. Offering lumber support, this model is a recumbent bike that can also be moved into an upright position.
Versatile, this model has a large LCD display which is also used to control the resistance level.
Place a book or tablet on the display's holder, and you can read or watch your favorite show while burning calories the entire time.
The X Duo has 14 pre-programmed workouts included, which varies the resistance over the course of your workout. This is great for keeping your workouts interesting and isn't a feature often seen on folding exercise bikes.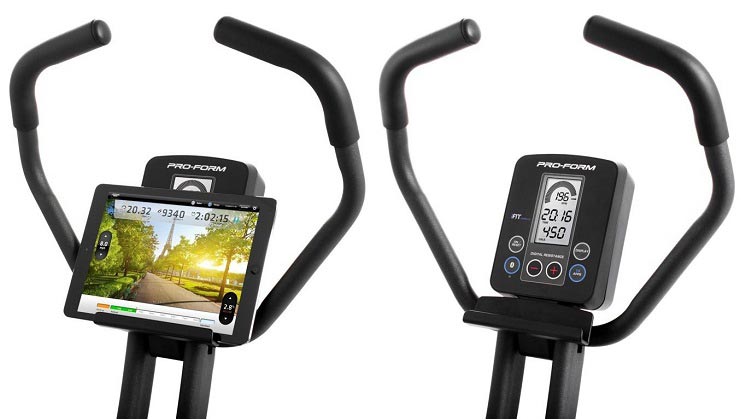 iFit Coach Ready, this allows you to connect your tablet or mobile to the exercise bike for lots of extra features.
You can even bike your way through some of the world's most famous cities thanks to google maps combined with iFit.
Offering 14 workout programs, you can see how your stats stack up to other people using iFit. There are 14 resistance levels, offering a wider range of resistance than cheaper models tend to.
This bike is the heavier of the two recumbent bikes, weighing in at 32kg, which is double the weight of most other models.
8. Olympic 2000  – Best Folding Exercise Bike Under £100
Looking for an affordable folding exercise bike? There are several cheap models on the market, but you must be careful that you aren't wasting your money on a poor-quality bike.
Our top folding exercise bike under £100 has to be the Olympic 2000 folding exercise bike. The design may be basic, but it is built to last, making it great value for money.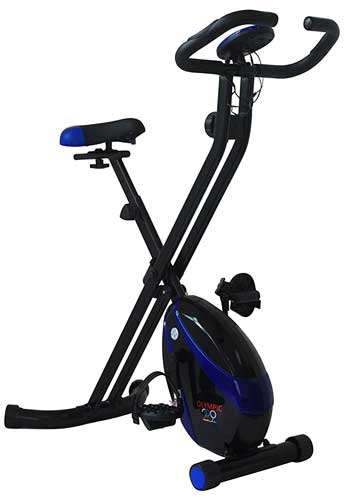 The 8 levels of resistance are generated by the 2.5 kg flywheel which you can simply adjust by turning the knob located underneath the console.
Despite amazon's description saying that the handlebars are adjustable, they in fact are not adjustable and only the seat is.
You can track your heart rate thanks to the pulse sensors embedded in the handle bars, although not as accurate as a chest strap sensor, it can still give a good idea of how hard you are working.
Considering the price of this bike we were expecting the seat to be uncomfortable, like many of the other budget models, however most users were pleased with the comfort of the seat.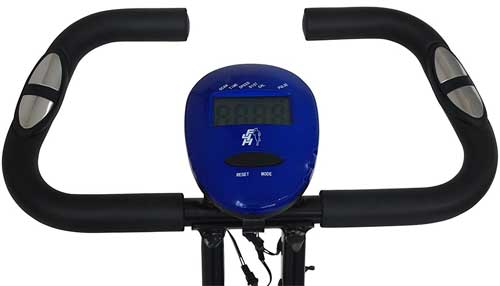 As standard, the on-board monitor tracks the following:
Calories
Distance
Speed
Pulse
Scan
Time
The maximum user weight is 100 kg which is roughly what we were expecting considering this is a lightweight model.
9. Klarfit Azura – Best Folding Exercise Bike Under £200
If you want to get a mid-range folding exercise bike, then you should expect to spend between £100 and £200.
Klarfit Azura Folding Exercise Bike is our pick for the best folding exercise bike under £200.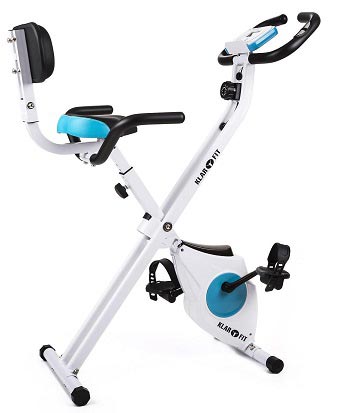 Equipped with a 3 kg flywheel, with 8 resistance levels and slightly more resistance than the previous model. This bike is a recumbent design, which provides extra support for the lower back.
Storage for your iPad, tablet or other device is available. The only downside is that you won't be able to see the display at the same time.
The handles also have pulse sensors to track your heart rate whilst you hold the handlebars. Some users mentioned that they would have preferred an adjustable handlebar to use this feature comfortably.
A wide saddle features a 7-step adjustment for users of different heights.
There are rubberized pads to protect flooring from damage and helping to keep the bike stable.
Quick and easy to assemble, you'll be able to get the Azure up and running in just 15 minutes.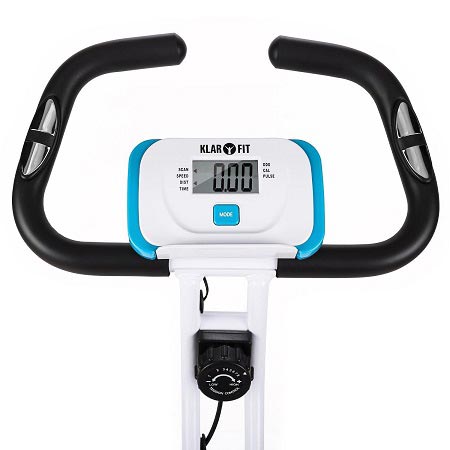 The training computer comes with the following workout metrics:
Distance
Calories
Speed
Time
Rollers on the bottom allow for easy transfer. The bike weighs around 19kg which is relatively lightweight compared to other mid-range models.
The maximum user weight is 100 kg, but some users claim they're at 120 kg and have no issues.
10. Exerpeutic EXER6 – Best Folding Exercise Bike Over £200
Our top pick for over £200 is the Exerpeutic EXER6 Folding Recumbent Exercise Bike.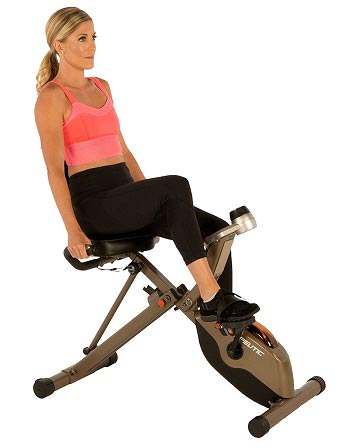 The EXER6 Gold 525XLR is a folding recumbent bike that is heavy-duty and made from more steel than the standard 525XLR, allowing for users up to 181kg to use this bike safely.
There are leg stabilizers that extend out to keep the recumbent firmly in place and prevent tipping.
The seat is adjustable to allow for users between 5'2″ and 6'5″ to fit properly on the recumbent bike.
Designed for users of all ages, the manufacturer calls this model a "semi-recumbent" because they've made it easy for users of all mobility levels to get on and off the unit.
Dual transmission flywheels provide 8 levels of magnetic resistance and a smooth, quiet operation.
The on-board LCD display is easy-to-read and shows:
Calories
Time
Speed
Distance
Pulse
Something that we feel could be improved is the seat padding, which many users found to be lacking, so you may want to invest in a gel seat cover.
11. FitDesk v2.0 – Best Folding Desk Exercise Bike
Our top choice has to be the FitDesk v2.0 Desk Exercise Bike.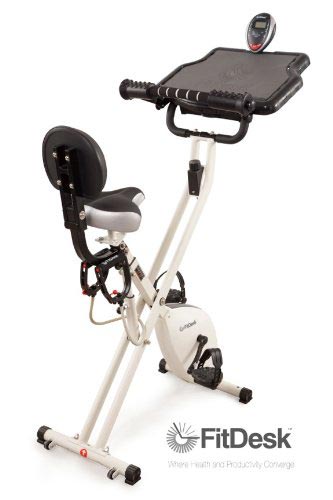 We are beginning to see more fitness equipment with desk attachments, as more people try to fit in their workouts around busy schedules.
The FitDesk is our top choice for the best folding desk exercise bike and is currently on of popular models on the market.
The v2.0 has a twin belt design and a high-quality gear box that will last for years.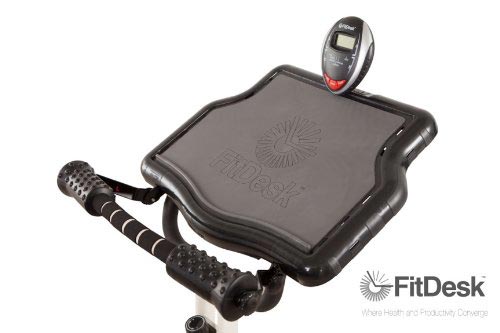 The console tracks:
The seat back is adjustable and there's an extender that allows the user to adjust the bike to a semi-recumbent or an upright position.
When it comes to getting work done, there's a non-slip desk surface to place your papers or laptop. You can work and exercise at the same time.
There is an easy-access drawer to hold any items you may need and a massage roller to make typing comfortable while exercising.
Resistance bands are included so that you can perform an arm workout while cycling.
If you thought this model would be heavy due to the desk, massage bar and recumbent design then you would be mistaken. The total weight is only 20kg and with the transport wheels can be easily moved.
The only issue is that the extra features mean the bike takes up a bit more space when folded. The desk takes up an area of 16" x 19".
The seat can be adjusted to fit users of heights between 4'10" to 6'6″ and the bike can accommodate users of up to 136kg.
11. Exerpeutic EXER6 Workfit 1000
Our next pick is the Exerpeutic EXER6 Workfit 1000 Fully Adjustable Desk Exercise Bike.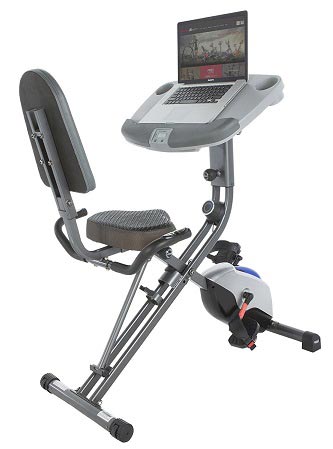 Exerpeutic's Workfit 1000 is a desk exercise bike that has a fully adjustable work surface. You can even use the desk when standing if you don't feel like cycling.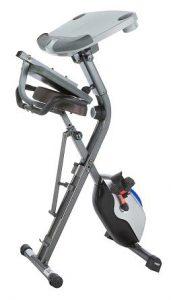 Height can be adjusted between five different levels ranging from 104cm to 114cm. Desk angle adjustments can also be made between three angles to suit the user.
Users between 5'2″ to 6'3″ can fit on the Workfit 1000 comfortably. There's also a 2.5″ AirSoft saddle which users found to be comfortable even for long periods. The maximum user weight is 136kg, which is the same as the FitDesk above.
There are 8 levels of magnetic resistance, controlled via the dial underneath the desk.
Once you've finished your workout, you can fold the Workfit 1000 up and store it away. Although this model takes up slightly more space when folded compared to the FitDesk.
A small, digital monitor is present right under the desk space, which allows users to track all of their key metrics: time, speed, distance, calories and pulse. We like that the position of the display is visible even with a laptop on the desk, unlike the FitDesk.
The drink holders mounted in the desk are also a useful addition.
Related: