Bike Box offers the Box Bike, which is a truly unique way to cycle in your home. If you've been wondering how you can fit an exercise bike in your home, flat or apartment, the Box Bike is going to be your best option.
It's one of the most compact exercise bikes on the market.
And it still offers a slew of great features that will allow you to maximize your workout.
Features / Specification
Compact, hands-free design
8 resistance levels (moderate to intense)
Adjustable seat
Foldable
Dimensions 89cm (H) x 58cm (W) x 70cm (D)
Folded Dimensions: 59cm (H) x 18cm (W)
Maximum user weight: 120kg (18.9 st)
Product weight (17.5kg)
Review of the Box Bike Exercise Bike
A truly unique addition to the world of home cycling, the Box Bike is a major consideration for homeowners because it has such a small footprint. You can even fold this bike down so that it can fit in the corner or against a wall.
Assembly
Assembly is a breeze – it's done for you. There's no need to pick up a screwdriver or wrench. You just unbox your unit, and you're good to go. Most exercise bikes need assembly, but this model comes 100% assembled for you.
It doesn't get any easier than that.
Build Quality
Weighing just 17.5 kg, the Box Bike is built to fit in small spaces. Don't get me wrong: it's a very durable bike. You'll find that this bike can help you strengthen and tone your muscles, and it's all done without handles.
You're on a seat, sitting, working your core and cycling away.
The lack of handles is a good and bad thing. Why? Well, the lack of handles makes it much easier to make a smaller bike. If it weren't for the lack of handles, this bike wouldn't be so small.
You can easily read a book, watch television or do anything you want without handles.
But, it's also much easier to maintain bad posture while cycling. Handles allow you to better balance when cycling and maintain proper core form. This means you're likely not going to cycle as fast as you would with a bike with handles.
Your core will work harder to maintain form, which is always a good thing.
Older users or users that need help with balance or lack trunk control will noticeably miss the handles. You'll find that balancing with handles is much easier.
When it comes time to put your cycle away, you can fold this bike down and put it in the corner. Yes, it weighs just 17.5kg, but you don't need to pick it up to move it into a corner. Transport wheels are incorporated into the design of your exercise bike to make it near-effortless to move into the corner or another room.
If you're on the taller or shorter side, don't worry: the seat is adjustable. You can move the seat up and down so that you can fully extend your legs when cycling.
Keep in mind that this exercise bike doesn't have pedals with straps. Your feet will not be secured into place, and this may be an issue for some users. You'll need to remain conscious of your foot's position, and this isn't a bad thing.
Since you will need to remain seated while riding because there are no handles, this shouldn't be much of an issue anyway.
If you're worried about the noise of the bike, there's good news: it's very, very quiet. You'll barely hear this bike make any noise, and that's a good thing. You can cycle while the entire house is asleep without fear that you'll wake everyone up in the process.
There's also great resistance options that make your workout more fluid and intensive.
Resistance
Resistance is key to amplifying your workout. Cycling has two key components that make it more difficult: speed and resistance. Bike Box has incorporated eight levels of resistance. These resistance levels don't start off weak like many other brands.
There's a knob on the top of the unit that allows you to switch resistance levels without needing to leave your seat.
Display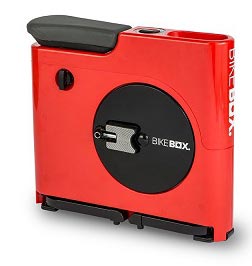 If you're looking for a display, you won't find one here. The Bike Box is display-free. Yes, this sounds terrible, and it might be for a full-sized bike, but not for this bike. You'll find that this model's compact size is because it doesn't have handles or a display.
Anyone worried about the lack of a display can use their smartphone to time themselves.
There are even apps that you can use to be able to track everything from your time to calories burned. While not as accurate as a display with a heartrate sensor, these apps will still work just as well as many displays on low- to mid-priced bikes.
To see the exercise bike workout app then simply Click Here.
Price
If you're worried about affordability, this model is priced around the £90 mark. It's affordable and practical.
Pros
Compact design
8 resistance levels
Easy to transport
Cons
The addition of a carry handle would have been nice, but the manufacturer has included transport wheels to make moving this bike a breeze. It's awkward if you're going to try and pick it up, but it's 17.5kg weight makes it rather easy to move even if the transport wheels weren't present.
Overall, the Box Bike is a great choice for smaller spaces where a person wouldn't be able to fit a full-size bike. It's practical and affordable.
If you would like an exercise bike that has handles and a display while still having a small footprint then it is worth looking at the Roger Black folding exercise bike which you can see by Clicking Here.