Losing weight, building muscle and increasing your stamina can be done from the comfort of your home on an efficient, affordable exercise bike. A leader in the industry, We R Sports offers a consumer-friendly price packed with features and an array of colors to choose from when purchasing.
Related: Top rated exercise bikes
If you plan on buying an exercise bike, We R Sports may have the perfect model for you.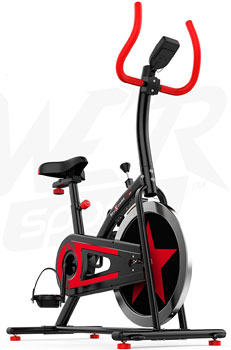 C100 at a Glance
10KG flywheel
5 functions
120KG maximum user weight
5 unique color choices
Padded seat
Adjustable seat height
Features and Performance
The We R Sports C100 Exercise Bike comes in 5 unique colors: blue, purple, red, white and yellow. A perfect choice for new cyclers, this bike can hold a maximum user weight of 120kg and allows for an easy assembly right out of the box. Within 40 minutes, you'll be able to take your first spin and enjoy a rigorous workout.
After assembly, you'll notice that the handlebars cannot be adjusted, but this is not an issue. Instead, look underneath the comfortable padded seat and adjust the height accordingly. You'll also find a knob that allows you to move the seat forward and backward. Many users have stated that if you're too small (5'3" and under) you may have to hop onto the seat due to the arch that is present.
Pedaling is very easy when the resistance level is not adjusted. Proper adjustment is simple. Simply locate the adjustment knob directly in front of you as you sit on the bike. Adjust the knob to control the tension. For the best workout, you'll want to allow for at least some resistance. As you advance in your workouts, you will want to adjust the tension frequently for muscle and stamina building.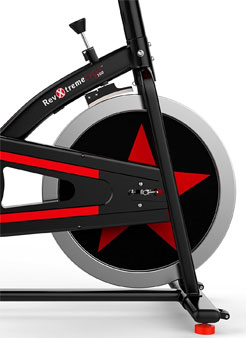 The LCD display shows your basic information, such as your cycling speed, time and distance. Batteries are required to use the on-board computer.
Noise levels are very low due to the flywheel design. Friction provided by the pedals provides ideal traction, but you will want to make sure that your foot is in between the pedal and the corresponding foot strap. This will allow for the utmost safety at all times. Never place your foot on top of the strap to prevent possible injury.
If your workout is getting too difficult to handle, there is an emergency stop system in place. This will allow you to immediately stop the flywheel so that you can safely exit the machine and not worry about injuring yourself or damaging the bike in the process.
Pros
Easy assembly
Very quiet
Tension controls
Great on-board display
Cons
Handlebars not able to be adjusted
Shorter users may have issues getting on the bike
The C100 provides exceptional performance at an unbeatable price. Users have been able to use this bike to not only build muscle and increase their stamina, but also to lose weight. If you want an exercise bike that will not burn a hole in your pocket and works exceptionally well, the C100 is definitely an option to consider.