Roger Black's Plus Magnetic Exercise Bike is the ideal choice in home cycling. This model's sleek design is misleading because it comes with a plethora of advanced features, including: LCD display, magnetic resistance, tension control and even a hand pulse sensor.
Designed to get you and keep you in shape, Roger Black's full list of features include:
Features/ Specification
8 levels of magnetic resistance
LCD window display
Water bottle holder
Hand grip pulse sensor
Pedal straps
Self-leveling pedals
5kg flywheel
Monitor: speed, calories, distance, time, pulse, scan
Adjustable handlebar and seat
Transport wheels
Maximum user weight: 125kg (19st 10lbs)
Dimensions: 12cm (H) x 59.5cm (W) x 97cm (D)
Product weight: 24kg
Assembly
People dread assembly. Even assembling a basic piece of furniture can become a nightmare, and when you're assembling an exercise bike, you need to be precise. You need to have a machine that is well put together so that you don't break the machine or cause injuries to yourself.
Self-assembly is required, but I am happy to say that if you follow the instructions (read them once or twice before starting), you'll be able to assemble this model within an hour to 90 minutes.
And the tools required for assembly come with the bike, including:
Allen keys
Multi wrench tool
The bike comes partially assembled, and it takes just five steps to go from the box to sitting on the unit and starting to cycle.
A basic assembly will follow these steps:
Attach the front and rear stabiliser
Connect the sensor wire (important for the monitor to work properly), attach the front post and then attach the tension knob.
Connect the pedals and computer to the front post. Note: Make sure you connect all required wires.
Attach your handlebars and wiring for the heartrate sensors.
Assemble and connect the seat post. Insert the post into the frame.
The instructions are very thorough, and you don't need to worry about messing something up along the way. A bit time-consuming, the assembly process is great because it teaches you a lot about your exercise bike before you even go for your first cycling session.
Build Quality
Since you're the one doing most of the assembly, you'll come to appreciate how well-built this bike really is. You'll find that there are a lot of adjustable options that allow you to customize the feel and comfort of your exercise bike.
A few of the key, adjustable features of note are:
Seat. The seat can be adjusted upwards and forward, allowing for a comfortable seating position for tall and short users alike.
Handlebars. The handlebars can be adjusted clockwise and anticlockwise. Adjustability is important because it allows you to enjoy a cycling stance that meets your cycling style.
Pedals. The pedals are self-leveling, and there are straps included that allow you to strap your feet securely to the pedals.
Now, adjustable features are very important because they enable the user to feel comfortable when they cycle. You'll be able to ride your cycle, and if there is someone else that wants to ride it, they can quickly adjust the seat and handlebars to match their body's dimensions.
You even have transport wheels that allow you to effortlessly move your cycle from one room to another, or place the cycle in the corner of the room when you're done cycling.
Keep in mind that this model weighs 24kg, and it has a maximum user weight of 125kg (19st 10lb).
And what if something is wrong with your exercise bike?
Roger Black offers a 12-month warranty. The warranty covers any manufacturing faults of the exercise bike, so your investment is safe within the first year of usage. Most defects in an exercise bike are apparent after the first few weeks or months of usage, so a 12-month warranty will more than suffice.
Resistance
When it comes to a rigorous cycling session, you can cycle faster, or you can adjust tension levels. Simply turn the tension knob clockwise to adjust the resistance levels to make your cycling harder.
Anticlockwise adjustments will lower the tension level.
With a generous 8 levels of resistance, you'll be ready to burn more calories and build more muscle on this Roger Black cycle.
Magnetic resistance is very quiet, so you won't wake up the entire family when cycling. You'll also notice that this cycle has a 3.5kg flywheel. The flywheel offers magnetic resistance, and while it's a great addition, it's on the lighter side for a flywheel.
What does this mean?
The flywheel doesn't provide a high level of resistance. Expert cyclists will find that the cycle doesn't meet their physical demands. But beginners and intermediate users will have more than enough resistance to help them lose weight, build muscle or simply stay in shape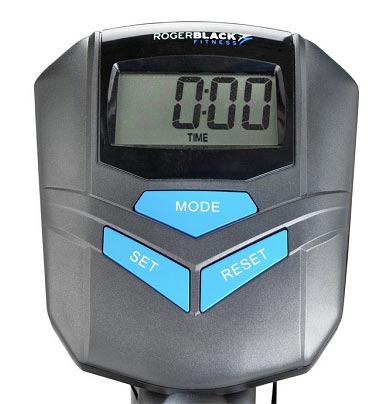 Display Features
Time
Speed
Distance
Calories
Odometer
Pulse
Scan
Batteries are required to run the computer, and if the batteries are drained, the display will start to fade to alert you that it's time to change your battery. Basic in design, the computer tracks all of the essentials to ensure that you have an adequate workout.
Advanced displays will offer programmes to help you boost your fitness level, but at this price, it's almost impossible to find an advanced display.
Roger Black does offer something many other models don't have in this price range: heart rate sensor.
Knowing your heart rate is vital for both stamina and burning calories. With the sensors on the hand grip, you'll be able to track your pulse the entire time you're cycling.
Price
Roger Black is all about affordability and rich features. Reasonably priced at £200, this Roger Black model is perfect for the budget-friendly shopper that wants an exercise bike that is reliable and well-built.
Pros
Adjustable seat and handlebars
Exceptional quality and build
Magnetic resistance and very quiet
Reasonable price
Cons
Assembly can be intimidating
Seat isn't the most comfortable
Assembly is a one-off process, but some users did complain that it was a bit difficult to assemble this exercise bike. The seat is also not as well-padded and comfortable as we would like, but at this price, it's hard to expect much else.
Conclusion
Roger Black's Plus Magnetic Exercise Bike is a great choice for beginner and intermediate users. Affordable, adjustable and offering eight levels of magnetic resistance, this exercise bike will help you stay in shape.
Assembly is a bit fickle, but tools are supplied and the instruction manual allows for an easy, straightforward time assembling. If you come across any problems, take your time and read the instructions again.
Quiet when in use and offering transport wheels, you'll be able to use the Roger Black right in the middle of your living room and place it in the corner when done.
It's perfect for homes or flats.