Small, compact and affordability is what the Olympic 2000 has to offer. This Fit4Home model folds up neatly and is ideal for flat owners who don't want their exercise bike to take up the entire room. Simply fold this model and place it in the closet when you're done.
Easy to set-up, this model features a 2.5Kg flywheel and a myriad of color options.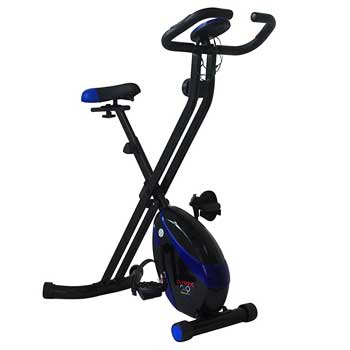 Olympic 2000 Folding Exercise Bike at a Glance
5kg flywheel
On-board digital monitor
Adjustable handlebars
Pulse sensors
Non-skid foot pedals with straps
Portable and compact design
Folds away for storage
Features and Performance
Designed for beginner and moderate cyclists, the Olympic 2000 has everything needed for an intense workout. Setup takes mere minutes and then you're able to quickly adjust the seat position to allow for a proper height. Choose a setting where your knees are not overly bent to take pressure off of your joints when riding.
The 2.5Kg flywheel provides a smooth motion and the non-skid pedals have a strap for added safety.
Handlebar adjustments are present that will allow smaller riders to easily adjust the height of the handlebars for proper riding form. You'll notice that the handlebars include embedded pulse sensors that will show you your pulse on the on-board monitor.
Functions on the digital display will help you keep track of your workout like never before. You'll be able to monitor the following:
Cycling speed
Distance rode
Total time spent cycling
Total calories burned
Resistance levels of the flywheel can be easily adjusted. There is a knob right under the monitor that allows you to easily adjust the tension levels when riding. There are a total of 8 resistance levels that range from very easy to moderate.
When you're all done, you can easily fold this model up and place it in the corner or in the closet. In total, this exercise bike weighs just 15Kg, so it's very easy for users of all sizes to move and pack away.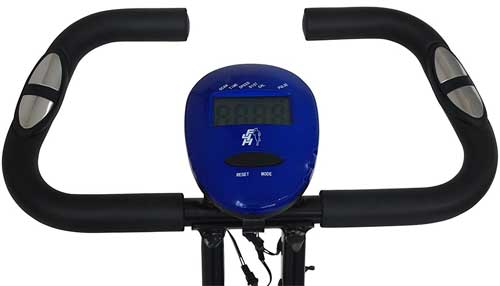 Pros
Light enough to move with ease, and folds up to fit in small spaces.
Easy to assemble.
8 resistance levels that allow users to build strength.
On-board monitor and pulse provide metrics every person needs when riding.
Cons
Resistance levels leave a little to be desired. The highest resistance level is moderate, and very fit riders will find it rather easy to propel.
I listed resistance as both a pro and con. While confusing at first, there are 8 resistance levels but I expected the highest resistance level simply wasn't as difficult as most users would have liked. If you're ultra-fit, you may have problems. If you're still getting in shape, resistance difficulty should not be an issue.
Olympic 2000 greatly exceeded my expectations with this model. Not only is it so affordable that it's almost impossible to pass up, but it's durable, the on-board monitor is great and the resistance is fairly decent. You can even fold this model in half and place it in the closet when you're done. You can't ask for much more in a budget exercise bike.