JLL creates exceptional products, but the JF100 is one model that truly excels in every category. This entry-level model provides an immense workout using a 4KG two way flywheel and magnetic resistance.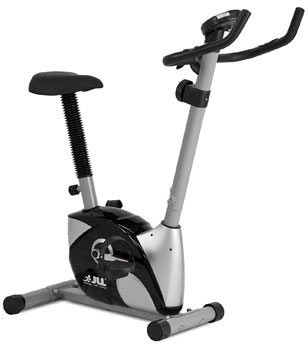 Let's take a look at what JLL has to offer in our JF100 review.
JLL JF100 at a Glance
4KG, two way flywheel
12-month warranty
10 resistance levels
Adjustable handlebar
7-level seat adjustment
Display console
Heart rate sensor
Features and Performance
Delivered free to your home, this model weighs 20KG and is a breeze to assemble. After unpacking, you'll spend just 20 minutes or less on the complete assembly of the bike. The hardest part is connecting the computer, which is done by connecting three simple wires.
Before you jump on the bike for your first ride, you'll want to adjust the seat. This is as simple as turning the knob located below the back of the seat and adjusting it to your desired height. You'll be able to choose between 7 different seat heights. Remember, this bike is meant to be easy on the joints, so if your knees hurt after riding, adjust the seat to find an appropriate level.
The handlebars feature a complete 360 degree adjustment so that you can choose a setting that feels best for you. Once this is done, it's time to take your first spin on the bike and see how it feels.
A padded seat allows for comfort even after riding for an extended period of time. The pedals have a strap which should be tightened to ensure your feet never slip. This is a simple adjustment.
As you pedal, you'll notice that there is minimal noise produced. The lowest level of resistance is the default setting and is great for warming up the muscles, but you'll likely want to adjust this setting to maximize your workout. Below the handlebar you'll find the tension adjustment knob. There are 10 different levels of magnetic resistance available. Slowly move up your resistance to find a comfortable setting for your level of fitness.
The final thing to examine is the console display. This display will show you the speed, time and pulse as you ride. If you want to push yourself to the limit, you will want to utilize the built-in heart rate monitor to ensure you're burning as many calories as possible during your session.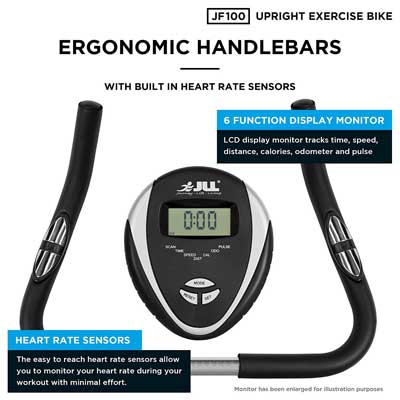 Pros
Great resistance
Easy assembly
Adjustable seat and handlebars
Very quiet design
Made to minimize impact on the joints and knees
Cons
Some users were not happy with the level of seat adjustments
Users who are too tall or too short may have an issue with the available 7 levels of seat adjustments, but this is the case with every exercise bike. Unfortunately, there is only so much that can be done to accommodate extreme height levels.
JLL created a true masterpiece with the JF100. Not only is a top rated exercise bike filled with features, but it's rated very highly among consumers and comes at the perfect price for a beginner or intermediate rider who wants to stay fit without going to the gym.