There simply aren't enough hours in the day! People's lifestyles are becoming busier and busier. This often results in people's health being affected by not having the time to cook their own meals and resort to ready meals instead or skipping the gym as there simply isn't time to go to the gym, workout and head home again. This is exactly why in recent years there has been an increase in the amount of exercise bikes being sold. This allows for people to quickly jump on the bike at home when that get a spare moment and then pack it away again.
With this increase in sales there has been an increase in the range of different exercise bikes on the market each with their own unique features to make them stand out from the crowd. This makes it difficult to find the model that suits you, and let's face it, you most likely don't have the time to research each individual bike. Therefore, we have taken what I deem to be the top 5 foldable exercise bikes on the market and reviewed them.
We all know there are health benefits of using exercise bikes such as, helps to tone/ lose weight, improves cardiovascular fitness and its low impact so there's a reduced chance of injury. Therefore I won't go into great detail about the benefits and instead get stuck into some different bikes to try and help you with finding the perfect one that suits your needs.
Best Folding Exercise Bike
1. Ultrasport F-Bike Home Trainer with Hand Pulse Sensor
Sale
Features:
LCD display with computer function: Time/ Scan/ Calories Burned/ Speed/ Distance/ Pulse
8 Resistance levels
8 two-way ball bearings for quick and easy set up
Model FB has a max. user capacity of 220 lbs (100 kg)
Model FBH has a max. user capacity of 286 lbs (130 kg)
This particular model of exercise bike is one of the more expensive exercise bikes out of the ones that I will be reviewing however it is worth the extra expense. I find that exercise bikes that come with hand pulse sensors help to add an extra dimension to your workout. Sometimes when I am using an exercise bike I tend to zone out and just get into the rhythm, then I find myself wondering if I am actually working hard enough. This is where the hand pulse sensors come in handy as you can see what your heart rate is and whether or not you are pushing yourself hard enough.
Another point to note about this model is that there is the option of upgrading to the FBH which has a capacity user weight of 130 kg. I currently weight 95 kg but I used to weigh more and a lot of the other exercise bikes on the market only have a capacity of 100 kg.
The folding mechanism of the bike is very simple and quick which makes it nice and easy to have a quick workout when you have 5 minutes to kill.
The only potential issue I have heard of with regard to this bike is that some people who are shorter than 5`4" sometimes struggle with reaching the pedals properly. However I would be slightly skeptical of how these particular people have the bike set up.
2. Olympic 2000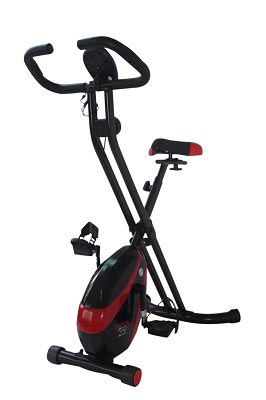 Sale
Features:
Digital monitor that tracks: Speed, Distance, Time, Calories burned and Pulse
5Kg Flywheel
8 levels of adjustable resistance
Adjustable handlebars
Pulse sensors
The Olympic 2000 is meant for beginners to exercise that don't want to spend a lot of money on gym equipment but wish to lose some unwanted weight.
Set up of the bike was hassle free and I was up and running in a matter of moments. The
On a model of this price I didn't expect to see pulse sensors on the handlebars which are a nice bonus. This allows you to accurately track you heart rate, which gives you the option of performing heart rate workouts.
Having the handlebar and seat adjustable helps to ensure that you can have the bike setup so that it is comfortable for you.
The display monitor is quite basic but it has all the important information such as distance, time, calories, speed and displays your heart rate. This is perfectly adequate for a beginner.
To adjust the resistance, you simply adjust the knob mounted on the main frame under the handlebars. If you are looking for a high resistance exercise bike then I would advise against this model as it this is meant purely for cardiovascular purposes and you would struggle to perform a HIIT workout on it as the resistance isn't quite enough.
The entire unit weighs only 15kg which makes it simple to pack away in between workouts.
This is a great entry level bike, offers fantastic value for money and will help you to lose weight.
3. Skandika Foldaway x 1000
Sale
Features:
8 levels of magnetic resistance
Hand pulse sensors
LCD Monitor that displays: speed, calories, pulse, time and distance
Maximum user weight: 110Kgs
Wide padded seat
6 Kg Flywheel
The Skandika is the most expensive model in our top 5 but is still only about £140. The first that I noticed while testing this model compared to the others was the difference in quality. You are still getting great value for money and the bike will no doubt last a number of years.
The seat on this model is far more comfortable than some of the cheaper models. You will not have a problem with your bum becoming numb half way through a workout.
As this unit uses magnetic resistance it is nice and quiet allowing you to have a workout bright and early without waking the entire house.
The x 1000 weighs just 16.5Kg and has transport wheels making it easy to move.
The display has all the metrics that you will need such as speed, time, distance calories and heart rate. The LCD screen is clear, easy to read and the heart rate sensors appear to be accurate which quite often isn't the case with similar foldable exercise bikes.
Out of our top 5 models this one is the best quality and offers a little more resistance than some of the other models. This is my personal favourite and I would recommend it to anyone that is looking for a bike that will last years and take their fitness to the next level.
4. X-Bike Fitness Cardio Workout Weight Loss Machine
Features:
Monitor with 6 functions, calories, Distance, hand pulse, time and speed
8 magnetic resistance levels
Available in range of colours, black, blue, green, red, orange, pink, purple and white
Adjustable foot straps
Size (L) 81 x (W) 42 x (H) 107
user weight 100 kg
Apart from looking amazing with a wide range of different colours, this model also uses magnetic resistance which keeps the noise level to a minimum, so you don't have to turn your television up to max volume to hear it. When I first used a foldable exercise bike I always thought it would be like sitting on a rocking horse as they are so small but I am pleasantly surprised with how sturdy this model is. I made the point of giving the bike a bit of stick to see what its made of and I'm pleasantly surprised with how it coped.
It takes about 20 minutes to put together even with instructions that are bit lacking, however it is partially assembled before it arrives and only requires a bit of common sense and its up and ready to go in no time.
5. JLL Folding Magnetic Exercise Bike
Features:
8 Magnetic Resistance Levels
3" LCD monitor displaying: Time, Distance, Speed, Odometer, Calories Burned and Pulse
Adjustable shoe straps
Maximum user weight 100 kg
Seat height (83 – 93cm)
Product weight 18 kg
12 month warranty
Folded up dimensions (L) 44 cm x (W) 44 cm x (H) 133 cm
The thing I like most about this particular exercise bike is how quiet it is! The magnetic resistance means that you can roll out of bed first thing in the morning and have a little workout before work without worrying about waking up all of your neighbours in the process. This model also has the hand pulse sensors which I think are important if you wish to take your workouts to the next level and really make some progress.
It folds away nicely and has a set of wheels on the back to make moving it even easier. A lot of thought has gone into this product and it is perfect for someone with a small house/ flat that wants to be able to do some exercise in the comfort of their own home.
I have heard of someone moaning about the seat being a little bit too large as they are only small but I actually find this model has one of the comfiest seats in my own personal opinion. I sometimes find I get a numb bum on some seats but that doesn't seem to happen with this seat.
How to Choose the Right Bike For You
To be honest it is difficult to say what "best" actually is, as everyone is different, with different goals. For instance if you wanted to do high intensity interval training then I would recommend looking at a larger bike as these foldable bikes are meant for low intensity steady state cardio.
One general rule that does seem to apply to any exercise equipment is that you tend to get what you pay for. So sometimes you may be better off spending a little extra in the beginning to save money in the long run.
I hope this article has helped answer some possible questions you may have about exercise bikes.
Save
Save